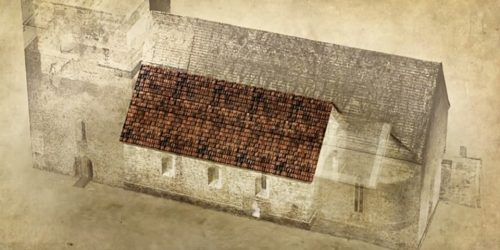 The Pöide church is one of the oldest stone churches in Estonia, probably built in the 1230s. Two massive post holes, discovered in the area right next to the stone church during excavations, indicate that a wooden building may have preceded the first stone construction. The first stone church, built in Romanesque style, was on considerably smaller scale than the one we can see today. However, shortly after the completion, the Romanesque church was rebuilt in Gothic style.
The present church tower, built at the end of the 13th century, was probably the one mentioned in some documents as the Pöide tower-fortress. The common opinion is that the Livonian Order built their first castle in Saaremaa at Pöide in the end of the 13th century. It consisted of the stone tower and probably of some wooden buildings adjected to it.
According to chronicles, the Pöide fortress was conquered and destroyed by the Oesilians (inhabitants of Saaremaa) in 1343. Nevertheless, archaeological material does not support it entirely – the fortress continued to exist in some form later on as well. Some scholars have pointed to the possibility that the castle was completely rebuilt of stone only in the beginning of the Modern Era (Kadakas, Kreem 2019).
Pöide church is remarkably large when compared with other churches of Saaremaa, which seems to be in good correlation with the hillfort of Pöide, one of the biggest hillforts on the island. The construction of the stone church was probably initiated by local elite families. Inside the church, sculptures of a man and a woman should be mentioned, probably depicting the elite couple who financed some stage of the building, e. g. vaulting. The woman holds a drinking horn and is portrayed with peculiar jewellery and textile decoration characteristic to the local culture. The clothes of the man follow the European manner, as could be expected from a nobleman of the 13th-century Saaremaa.